Bitwarden Videos
Bitwarden Browser Extension Quick Start
Bitwarden Password Manager BEST OF YouTube
Can You Trust Online Password Managers Like Bitwarden?
---
Open Source Password Management for You and Your Business 🛡
The easiest and safest way for individuals and businesses to store, share, and secure sensitive data on any device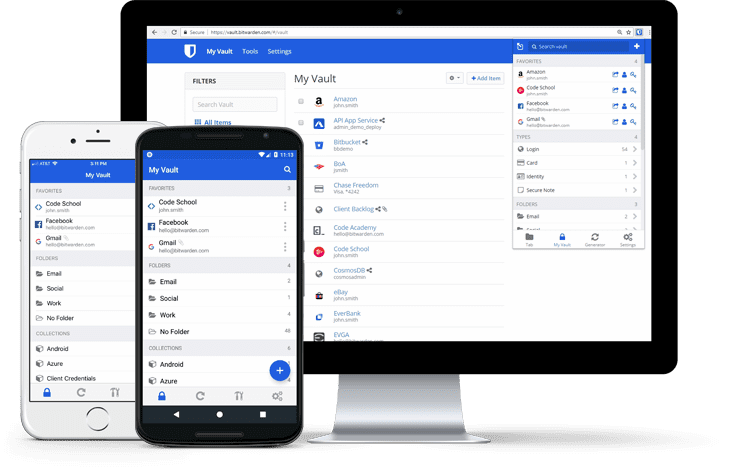 ---
Why Choose Bitwarden as Your Password Manager? 🔐
| | | |
| --- | --- | --- |
| | | |
| Security You Can Trust | Open Source Transparency | Global Accessibility |
| Our Bitwarden application seals your private information with end-to-end encryption before it ever leaves your devices. | Our software is open source which means the features and security of our infrastructure can be vetted and improved upon by our global community. | Our workforce and solutions are globally distributed and provide multi‑platform sensitive data management in nearly 40 different languages. |
Your online safety is at risk without a trusted password manager
Password theft is a serious problem. Your online accounts are consistently under attack which is why strong password security practices have never been more critical.
Secure your passwords from any location or device
The Bitwarden Password Manager helps you create and manage unique passwords so you can strengthen your privacy and boost productivity online from any device or location.
Why choose Bitwarden?
| | | |
| --- | --- | --- |
| | | |
| End-to-End Encryption | Cross-Platform Applications | Global Community |
| Lock your passwords and private information with end-to-end AES-256 bit encryption, salted hashing, and PBKDF2 SHA-256. | Secure and share sensitive data within your Bitwarden Vault from any browser, mobile device, or desktop application. | Align to the highest security standards with a global community of password security experts and Bitwarden users. |
The best solution I found was Bitwarden. Bitwarden is an outstanding password manager that includes all the bells and whistles you've come to expect from such a tool. And because Bitwarden is open source, it updates regularly.
How Bitwarden Works
Bitwarden helps you generate, save and manage your passwords safely and securely.
You can also share secure information easily with others in your organisation.
Bitwarden for You

Bitwarden for Business

Password managers secure and protect your online data in the face of rising cybercrime threats.

Bitwarden makes it easy to generate, store, and secure unique passwords from any location or device. Create your free account and invite a friend or family member to join your free two person organisation.

Businesses choose trusted password managers to set a secure foundation for their company.

Bitwarden is open source and secures your private information with end-to-end encryption. Start a free trial for your organization and empower your team to store, access, and share sensitive data from any device.
Bitwarden Features and Benefits
✅ Secure Password Sharing
Share your encrypted data quickly and easily, and only with the users or teams who need access.
✅ Cross-Platform Accessibility
Access critical data in your Bitwarden vault from any location, browser, and device.
✅ Cloud-Based or Self-Host
Get up and running in minutes in the cloud or you can self-host Bitwarden for complete data control.
✅ Security Audit & Compliance
Open source and third-party audited, Bitwarden complies with Privacy Shield, GDPR, CCPA regulations.
✅ Vault Health Reports
Access insightful reports to reveal weak, reused passwords, and other helpful data security metrics.
✅ Directory Sync
Our powerful Directory Connector streamlines user and group onboarding and keeps them in sync.
✅ Always-On Support
Our Customer Success agents are available to support you around the clock.
✅ Detailed Event Logs
Bitwarden creates audit trails to help you keep track of user and group access to sensitive data.
✅ Flexible Integrations
Unite your existing systems with Bitwarden using SSO authentication, Directory services, or powerful APIs.
Install and Sync All Of Your Devices
Our secure cloud syncing features allow you to access your data from anywhere, on any device! Your vault is conveniently optimized for use on desktop, laptop, mobile devices.
Bitwarden has become a popular choice among open source software advocates. After using it for a few months, I can see why.
Proven Security and Transparency
Open Source Security

End-to-End Encryption

3rd Party Audited

Being open source is one of the most important features of the Bitwarden platform.
We believe source code transparency should be a requirement for online security solutions like ours, and at Bitwarden, we are proud to work alongside our open source community to help us set new, higher security standards for password and sensitive data management on a global scale––and ultimately, make the online world a safer place.
With Bitwarden, all of your data is fully encrypted before it ever leaves your device, and only you have access to managing it. Even the Bitwarden team cannot unlock your protected data. Bitwarden seals your sensitive information with end-to-end AES-256 bit encryption, salted hashing, and PBKDF2 SHA-256.
In addition to our open source codebase and public bug bounty program, we also understand the need for official security assessments and penetration testing from reputable third-party sources. Bitwarden has completed a thorough security audit and cryptographic analysis from the security experts at Cure53.
Have questions? We're here to help.